Safety is Our Primary Concern
DialSafetyTM is best Illustrated by Comparing it to Other Attempted Weak Solutions
Comparing DialSafetyTM with
"Timer Caps"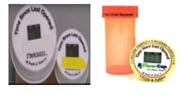 Timer Caps has very limited use and questionable Amazon reviews. CVS stopped using it. Unlike DialSafetyTM, Timer Caps suffer from the following important safety issues and disadvantages:
Timer Caps only fits a very small number of prescription bottles. They do not fit most bottles and containers of various shapes, sizes and medicine types.
Timer Caps do not fight overdose and have no Rx awareness campaign highlighting the risk of prescription overdose.
Timer Caps are known to malfunction due to battery issues, fading screens and other mechanical problems.
Timer Caps do not support the child resistance feature.
Timer Caps are not suited to fit OTC pain killer medications such as Tylenol Acetaminophen which kills over 400 person every year.
Comparing DialSafetyTM with
"Pillboxes"

There are many variations of pill boxes, using compartments for days of the week or for morning, noon, and evening. Pill boxes promote compliance but are cumbersome and are risk and error prone as Dr. Anne Schuchat, the previous acting CDC director cautioned in a speech about "Medication Adherence" in February 2017 cautioning about the use of pill boxes. In general pill boxes suffer from the following serious safety issues.
Pill boxes are risk prone due to contamination, mixing, missing pills or adding extra pills.
When an error occurs, it can replicate for a week or a month depending on the size of the pill box which can lead to death from improper use of vital medicine.
Names of medicine on pill boxes are not visible for EMS use.
Pill boxes are only suited for pills, they are not suited for other forms of medicine such as liquid, eye drops, inhalers, and injections.
Pill boxes require time and effort to prepare. Many elderlies suffer from vision and dexterity problems that complicate their use and make them unsafe.
Pill boxes are not effective against prescription overdose. They lack timing mechanism reminding the user about the last time he took his pain medication.
Comparing DialSafetyTM with
"Mobile App"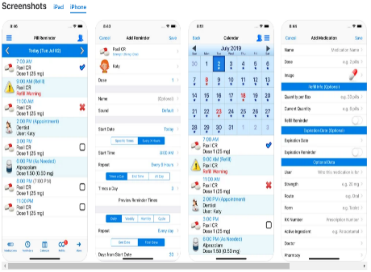 Mobile Apps alert the users to the time they need to take their medications. The user is responsible for confirming the time they take their medicine. Major pharmaceutical company's require opening an account to use their Apps. The following are some of Apps features that inhibit their widespread use:
Most Apps are difficult to use, unlike DialSafetyTM which is ready from day one, all Apps require setup and preparation time that could be intimidating.
Apps are not integrated with the bottle, when the user is alerted to take the medicine there could be a lag between the time the alert is made and the time the medicine is taking and that could represent a problem for people with memory problems.
Not suited for vision or hearing-impaired people (many of the elderly)."
Apps have no Rx dose awareness mechanism to fight overdose for prescription opioid or OTC pain killers like Tylenol.
DIALSAFETY IS THE IDEAL SOLUTION
DialSafetyTM is an ideal solution for two reasons: it can make prescription bottles more appropriate for reducing accidental overdose and ensure that awareness campaigns are more impactful. DialSafetyTM is a minutely crafted and proposed system to secure accurate medical dosage.